How Do I Join London Army Cadets?
The cadet training year follows that of the school calendar year, beginning in September and ending in June. Youth wanting to join army cadets must be between the ages of 12 – 18.  We can not enroll people younger than 12 years of age.  
September and October are the best months to join as most new recruits join in these months. Saying that, you may join at anytime during the cadet training year, however, if you are interested in attending summer training or want to progress to the next proficiency star level the following year – you will need to have joined NO LATER THAN March 1.
---
In order to join #9 Royal Canadian Army Cadets in London, Ontario please fill out the online application (link below). Once we receive the application, we will enter it and contact the parents/guardians to let you know that we have the application and what type of identification documents we'll need for the new recruits.
Join Cadets – start the online registration process, and access resources on the steps and information required for joining
Online Registration Tool for Cadets – information for parents that can support parents through the process for successful completion of the registration.  
Online Registration FAQs for Parents – Helpful FAQ for parents about online registration
Parent / Guardians: 
Complete the Registration Form and submit it to the Corps Sqn of their choice. 
Once they are contacted, they will need to bring in their proof of Canadian Citizenship and present their health care cards.
When using the online form to "Find a cadet corps or squadron, to find London Army Cadets the search should look like below: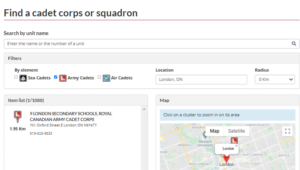 Transferring From Another Unit
Before you begin your transfer to #9 London Army Cadets, you must be out-clear with your current unit. This includes, but is not limited to:
Return your issued uniform;
Return any other equipment you may have been issued;
Complete any paperwork as requested by your Commanding Officer or Administration Officer;
Be struck-off-strength (SOS) from your current unit's Fortress account (this is done by one of the officers at your current unit); and
Contact 9rcacclond[email protected] for more information on how to transfer to the unit