Welcome back No9, we hope you had a great long weekend!
WROs
Tag Days
One of the aims of the Cadet program is to promote citizenship by positively contributing as leaders in Canadian society. Tag days are essential in keeping our program running. We ask all cadets to participate in this important fundraising event, this is considered a mandatory event all cadets must participate in.
Before AND after your shift, please ensure you visit us at our Administration Office as shown below on our map. A parent/guardian must drive you to your assigned location. If you do not have a ride it's okay, please let staff know when you arrive.
Below are the available shifts available to sign up for, locations are assigned once you arrive on base.
October 12, 2023: 5:30PM-8:30PM
October 13, 2023: 5:30PM-8:30PM
October 14, 2023: 9:30AM – 12:30PM
October 14, 2023: 1:00PM – 4:00PM
If you can't commit to a shift or must call in sick, please call us at 519-520-9533. If you do not show up, keep in mind, that this is documented on our end and cadets will be held accountable.
Tag Day FAQ
But what do I wear? Cadets will wear C3 (Full dress) Please wear your issued parka if it becomes cold.
I haven't been given a uniform? Cadets without a uniform will wear black pants and a white shirt. Dress accordingly, please bring a jacket if it's cold.
Why is attending mandatory events important? We take this into consideration for promotions, summer camps and awards. This is a program you get more out of the more you participate in.
Where do I go on base? Please visit us at our office as shown below on the map labelled "#9 Supply Office."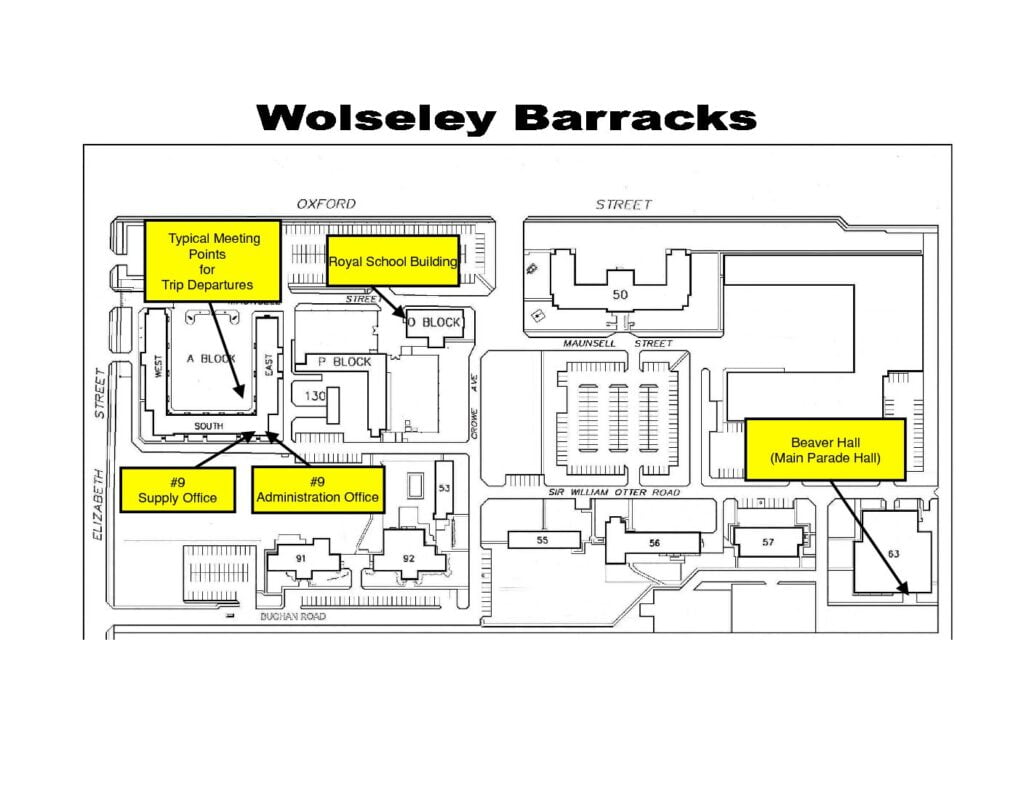 Poppy Blitz
Chris Brownlee, will still be at cadets on Oct 16th and 23rd from 6 pm to 7 pm to assist with online sign-up if needed. Right now please only sign up for one shift to give every cadet the opportunity to participate. If there are still spots open after Oct 23rd then you can sign up for multiple shifts.
Here are the locations and links for November 4th.
HIGHBURY AND HURON LONDON
WALMART volunteersignup.org/CF8FX FULL
TD BANK volunteersignup.org/R3CWA
TALIZE volunteersignup.org/YX4TY
SHOPPERS volunteersignup.org/B97EP
SCOTIABANK volunteersignup.org/MPWYM
DUNDAS AND THIRD LONDON
GIBRALTER TRADE CENTRE volunteersignup.org/87ERC
Supply
Stores will be open Wednesday, Oct 11 from 630 pm to 830 pm. If you made an appointment with CI Pollard please let her know so that we may fill the spot for the next cadet if needed.